Decades of Experience
Originally started by father and son in Arkansas in 1987, we're now serving Oklahoma and Texas.
We provide free in-person estimates, and every job gets a Project Manager who Quality Control Inspector. Our processes and team members deliver expert results.
Continually Improving
Our management team and field workers provide excellent service and results because we've been perfecting our skills for decades.
We work hard to meet and exceed expectations so you enjoy your outdoor upgrades and want to refer family and friends.
Dozens of Positive Reviews
We are a family business that strives for quality and customer satisfaction.
We have dozens of positive reviews (almost all are 5-stars) across Google, Facebook, and the Better Business Bureau (BBB).
Licensed, Bonded, & Insured
We maintain any required licenses and bonding in the states we operate. We have a million-plus liability policy.
If requested, we are happy to provide policy documentation and a lien release.
Having worked in concrete as a younger man and having that knowledge behind me, I was very particular about who would pour and finish my 1,100 square foot patio. I met with multiple contractors and chose Summit Concrete and Construction. These guys did exactly as advertised. They back put down commercial grade weed blocker, rebar on chairs every 18″ and used chat instead of dirt for fill. They worked with me in design and were flexible to my changes as the project developed. I can say with zero hesitation that I would recommend and use Alan and Dexter and Summit Construction again for my projects. Great company!!!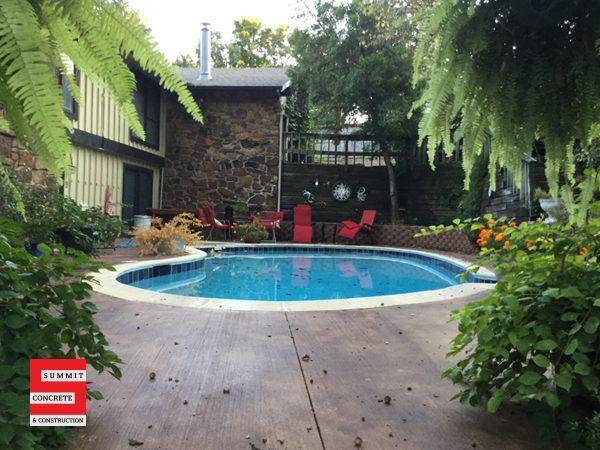 In-Person Estimate
We provide best-value, accurate pricing because we bid in-person. We evaluate the surrounding environment and are able to discuss all your ideas thoroughly.
If interested in financing, we can provide several recommendations for amounts $3,500 – $50,000 or more.
Contract & Scheduling
Upon your acceptance of the contract, we will schedule your job (weather-dependent) and assemble the crew to best complete your job.
Our protocols and 10-step process meets or exceeds engineering specifications. We deliver commercial-grade quality on all jobs, even for our residential clients.
On-Site Through Completion
Management usually visits each job site twice per day to avoid delays and ensure we deliver you with high-quality results, as per the contract. Upon completion, management will conduct a final quality control inspection.
OK: (918) 286-7084
TX: (469) 929-4998
5103 S Sheridan Rd #614
Tulsa, OK 74145
1121 E Spring Creek Pkwy #110,
Plano, TX 75074